Macy's Death Spiral is slower and more painful than most
The Short of the Holidays
Macy's, Inc. is a major operator of department stores in the United States. Under the Macy's brand is a direct mail catalog and e-commerce shopping options. Macy's retail stores sell a wide range of merchandise for men, women, and children, including apparel and accessories, cosmetics, home furnishings, and other consumer goods. The company operates about 870 stores across approximately 45 US states and Washington, DC, as well as Guam and Puerto Rico. The company has 3 brands: Macy's, bluemercury, and Bloomingdale's (and accompanying e-commerce sites). Women's apparel and accessories account for more than 60% of total sales.
Similar to other retailers, Macy's faces serious pressure on department stores. The downward pressure and rising likes of online retailers and e-commerce giants such as Amazon has led to an 11% drop in Macy's revenue over the past five years. Net income has been on the decline as well, falling 27% between 2014 and 2018. In fiscal 2018 (ended January 2019) the company reported revenue of $25 billion, which was flat from a year's prior. Same-store sales increased 1.7% (which declined in the two years prior). Net income fell 29% $1.1 billion, primary due to an income tax expense of $322 million compared to a tax benefit of $39 million in fiscal 2017 related to the US Tax Act. Cash at the end of fiscal 2018 was $1.2 billion, a decrease of $265 million from the prior year. Cash from operations contributed $1.7 billion, while investing activities used $456 million, mainly for capital expenditures. Financing activities used another $1.5 billion for repaid debt.
Macy's has attributed their sales declines to several business aspects: soft international tourism, weaker than anticipated performance in the lower-tier malls where they have a retail/department presence, the late arrival of cold weather, and the impact of e-commerce sales as they prep their website for the holidays.
Growth150 is a current investment model being used by Macy's to fight e-commerce: it includes upgrades to facilities, fixtures, staffing, assortment, and customer service to build a scalable model for brick and mortar stores. Macy's is essentially unloaded capital into a failing model. While these stores comprise approximately 50% of their brick & mortar sales, it is not something that will give them the return they need to fight off e-commerce giants, who are making it more and more convenient for consumers to get same or next day shipping from their couch for the same items they could spend valuable time seeking out in a retail store.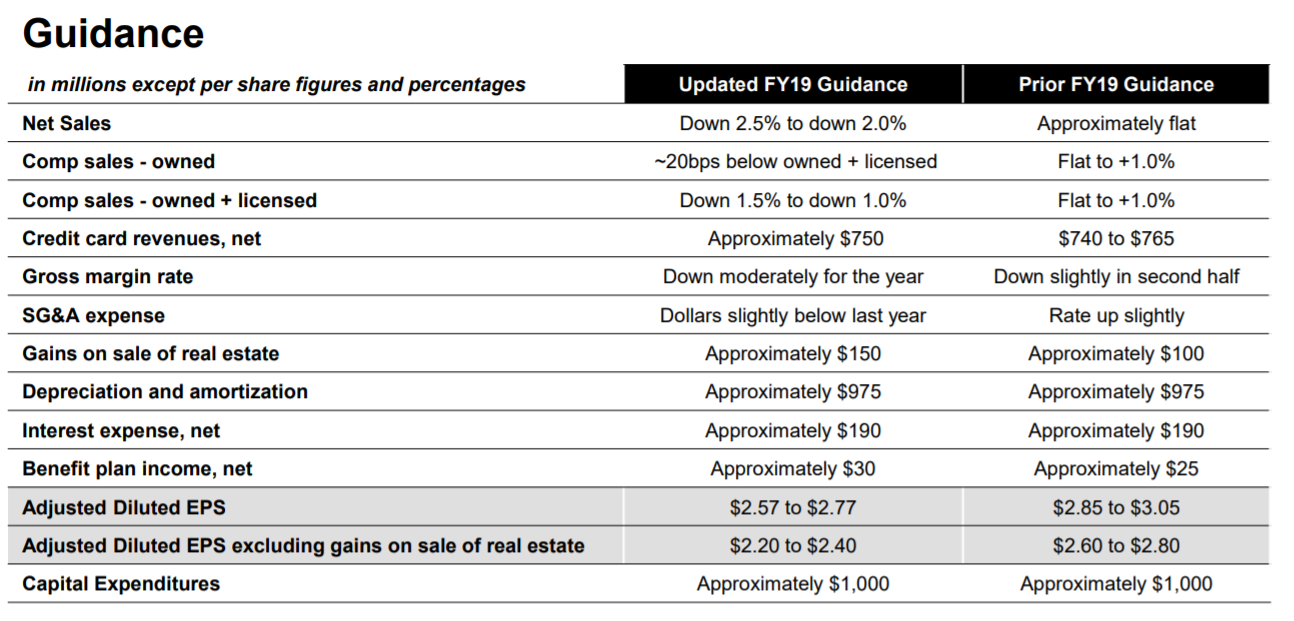 The company continues to open stores as sales fall, as the company has opened 50 locations TYD. The company has decreased guidance on their FY2019 sales and is having trouble improving in that area. The only glimmer of hope on the horizon for Macy's is the holiday season, where they hope to attract seasonal shoppers.
Recent company releases in regards to initiatives to fight of e-commerce giants includes strengthening its omnichannel business, appealing more directly to customers through loyalty programs and value-pricing strategies, and leveraging technology and innovation to drive growth – we will see if these strategies will work to keep the foot traffic in retail and department stores.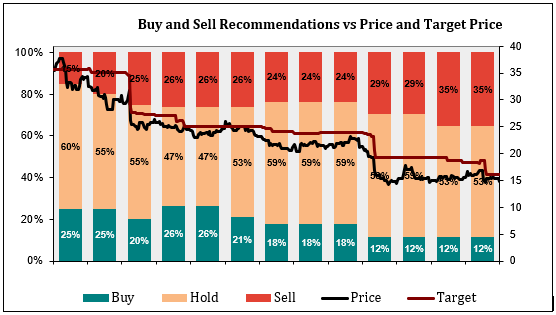 Analyst sentiment points to a short: between fierce e-commerce competition, and failing department/retail outlets, the company stock should be falling below $10.00 by 2Q2020.