Private Equity in the current market environment
Surging Markets and Effect on Private Equity Firms
            Private equity firms continue to struggle late into the stock market cycle as prices surge. Private equity firms raise capital from investors with the intention of buying companies in need of managerial or operational improvement, most often with substantial use of debt financing (leveraged buy out). However, as companies continue to report record profits and prices surge, private equity firms are holding onto cash and being more picky with their investment decisions. While most private equity firms tend to set a 4-7 year horizon for their investments and turnaround of companies, holding onto cash in markets like this eats away at potential profits the company could be making and does not sit well with investors.
In the United States, the aggregate value of buyouts fell 25% for the 10 months through October from a year's prior. Coming in at the lowest aggregate value since 2014, the total was $155.2 billion.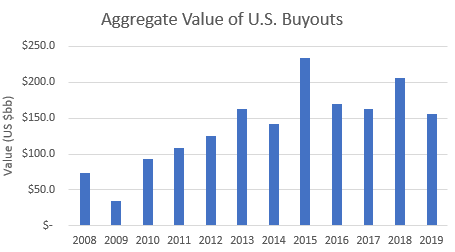 The disconnect between private equity firms and lenders on the rates they have to pay on the debt financing portion of the deal has caused a lot of delay in the buyout market. KKR, a leading global private equity firm, had been in discussions to purchase Walgreens Boots Alliance. With a market cap over $50B, the necessary debt financing has been tough to come by at favorable interest rates. Many of the investors in these funds include pension funds, sovereign wealth funds, and insurance companies. It will be interesting to track the market and see how it recovers in 2020.